Hand arm vibration (Control of Vibration at Work Regs July 2005)


Hand Arm Vibration Syndrome (HAVS) & Vibration White Finger (VWF) are potentially serious conditions affecting the hands & fingers. Damage may be caused to blood vessels, nerves, muscles and joints through the use of vibratory tools such as road drills, concrete breakers, hand-held grinders, impact drills, hammers etc.
Symptoms of HAVS & effects may include: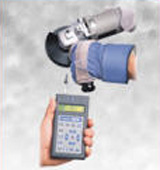 Blanching of (cold) fingers Numbness/tingling Reduced sensitivity to touch & temperature
Reduced dexterity Reduced grip strength Pain & stiffness in hands & fingers
Anyone who is exposed to hand transmitted vibration at work may be at risk. This may result from regular use of vibratory tools. Vibration levels have often been found to be significantly greater in actual field or work conditions than the stated levels that tool manufacturers claim.
An employer's duty, irrespective of exposure level, is to:
Assess risk to health from HAV & take steps to control risks.
Eliminate vibration at source/ reduce to a minimum
Provide information & training to employees on the risks from vibration and control measures
Provide health surveillance