Asbestos Surveys & Training
Management, Re-inspcction and Pre-Refurbishment / Demolition surveys
The Control of Asbestos at Work Regulations 2012 (CAR) introduced an explicit duty to manage asbestos in all non-domestic premises and came into force on 21 May 2004.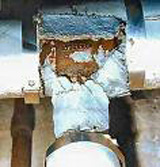 The duty to manage requires those in control of premises to:
. take reasonable steps to determine the location and condition of materials likely to contain asbestos;
· make and keep an up to date record of the location and condition of the ACMs or presumed ACMs in the premises;
· assess the risk of the likelihood of anyone being exposed to fibres from these materials;
· prepare a plan setting out how the risks from the materials are to be managed;
· provide information on the location and condition of the materials to anyone who is liable to work on or disturb them

Asbestos containing materials were used in:
Thermal insulation (eg. pipe and boiler insulation)
Fire-proofing materials (eg. sprayed insulation, fire door insulation)
Asbestos cement/fibrocement products (eg. roof and wall claddings)
Decorative and acoustic applications
Electrical switchboards, insulators and fittings
Vinyl floor coverings
Asbestos felts and paper-like products
Friction materials (eg. brake linings)
Paints, coatings, sealants and adhesives
Packings and gaskets
Textiles (eg. woven cloths, blankets)
Confirmation of the asbestos content and type within a suspect material should only be performed through analysis by appropriately trained and qualified personnel. JTEC Environmental can undertake Management, Re-inspection and Pre-Refurbishment / Demolition Surveys.
Asbestos Awareness Training
Appropriate training may reduce incidences of asbestos exposure and provide an understanding of how and how not to treat asbestos containing materials.
Our course covers the following subject matter:
What is asbestos?
Common asbestos types
Asbestos facts and history
Asbestos related diseases
Where do you find asbestos?
Current legislation
Courses can be tailored to suit specific requirements.